Our journey continued on to the location of our stop for the night - Xlendi.
We took a bus from the station in Victoria and arrived right outside St Patrick's Hotel which is where we would be resting our little drunken heads. Since we were still a bit early we decided to see at the sea front and have another drink...aka our second bottle of wine! We were feeling rather chipper after that bottle.
Check-in was easy. A friendly receptionist explained where our room was and we made our way up.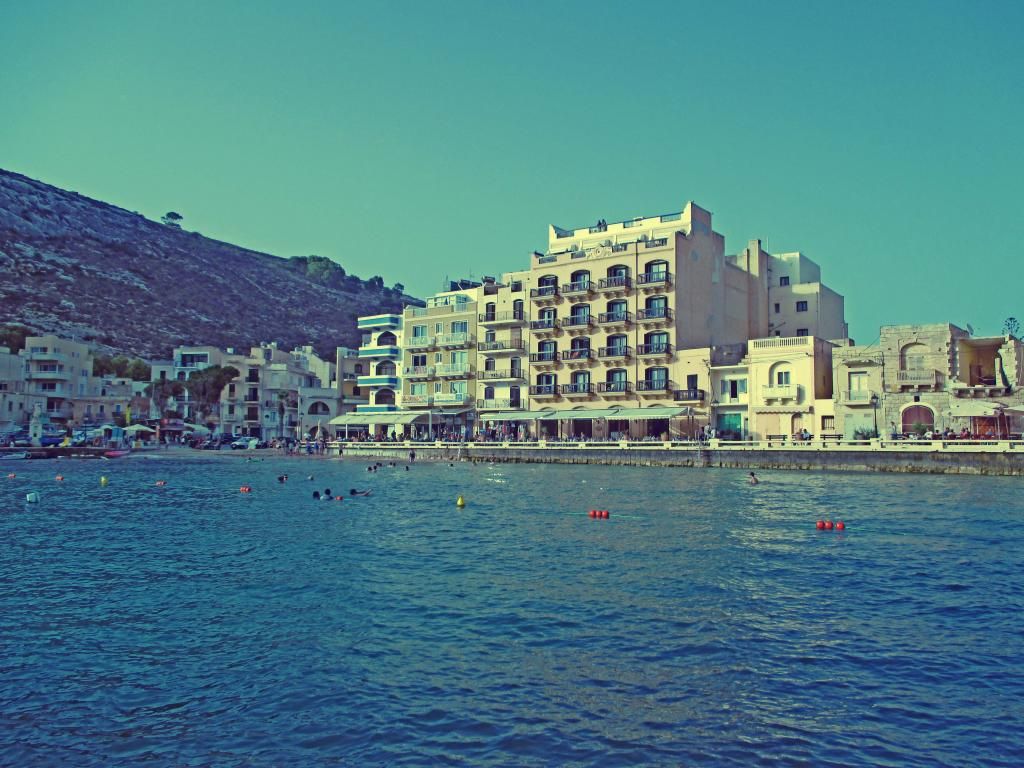 The room was simple, spacious and airy. I was happy to note that the balcony was overlooking the sea as I had requested but although I knew what the view was like, I didn't realise just how beautiful it would be! We were right in the centre; the calm glimmering sea directly ahead, the cliffs on the right towering over and filling us with awe (or me at least).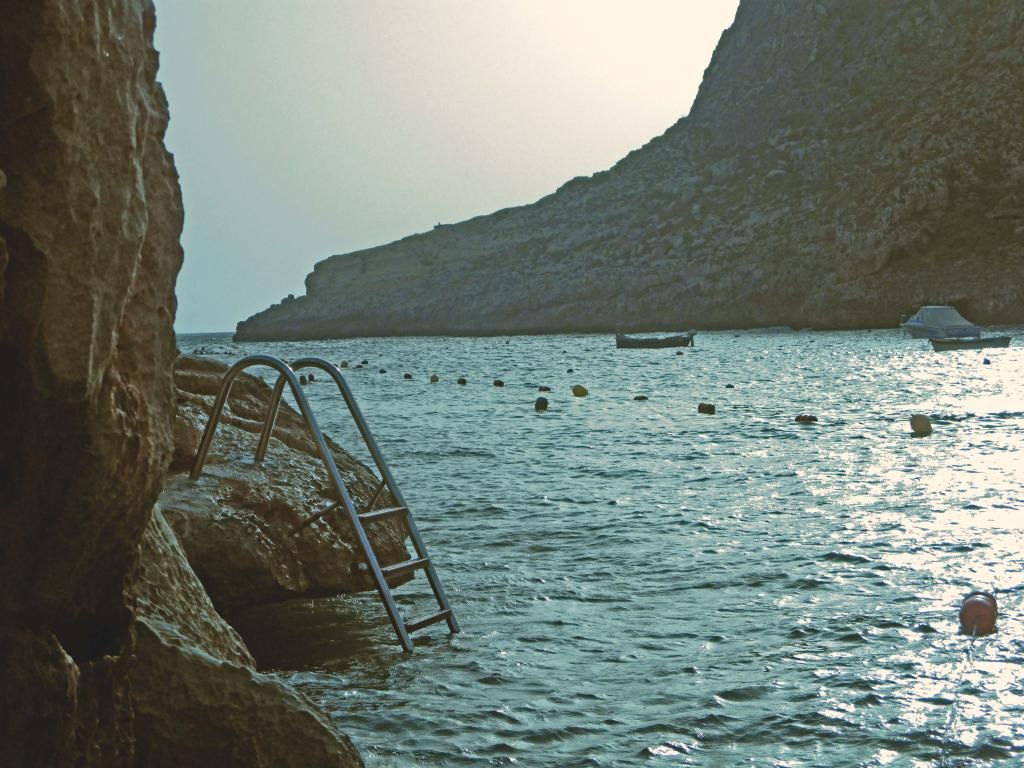 Since it was a scorching day, we were both craving a dip in the sea. To make things more exciting, I suggested buying some snorkel gear which was met with approval. We each bought a decent pair from a little tourist shop for about €12 each and set off to find a quiet spot which was surprisingly not too difficult to find.
The water was so refreshing! We spent a fair amount of time snorkeling and chilling together. It was pretty perfect.
The rest of the evening was spent chilling on our balcony watching the sun go down with a couple of beers and some pretty hilarious conversation until it was time for dinner. It's kind of become a tradition to go for Indian food whenever Lloyd and I meet so we were pleasantly surprised that there was an Indian restaurant just a couple of minutes away from St Patrick's Hotel!
It was good. So good.
The breakfast at the hotel was lovely. We ate our food at a table next to the sea whilst there was still some shade and enjoyed every minute of it. I would have definitely stayed in Xlendi a bit longer if I didn't have to work but a little break was just what this girl needed.


***About St Patrick's Hotel***
St Patrick's is classed as a 4 star hotel although to be honest I think realistically in this day and age it should be a 3 star. Not that there's anything wrong with it but I have seen 4 star hotels that are a lot more luxurious. I don't wish to bash it however as I did really like the hotel and the location is absolutely perfect. The breakfast buffet was also decent, though what I would have really liked to see is fresh fruit juices rather than those powdered type ones that taste overly sweet and fake (sorry). The staff seemed very nice though and I would definitely stay again!
***Sapana Indian Restaurant - Xlendi***
Despite the fact that it was very busy that night, we managed to find outdoor seating and were served by very friendly waiters throughout our meal. The food was absolutely delicious and there were plenty of vegetarian options (as there usually are at Indian restaurants - yay!). You won't be disappointed, just check out the reviews on Tripadvisor
here
.
Have you ever been to Gozo? Tell me about your stay!